Surface with a Smile! is a goal given by Bello Panini, after completing the goal, Take a Deeper Look!. This is the first goal given by Bello.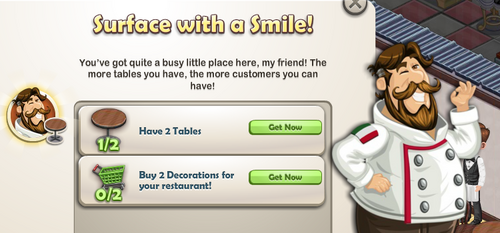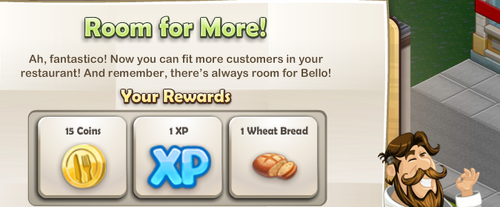 Tasks
Have 2 Tables
Buy 2 Decorations for your restaurant!
Your Rewards
15 Coins
1 XP
1 Wheat Bread

The goal introduces Shop in the Marketplace, which is represented by the Shopping Cart icon displayed on the Restaurant's Control Panel located at the bottom of the screen.  Shop in the Marketplace opens up the Marketplace where items such as tables and decorations can be purchased with Coin, Chef Cash, and Hearts. 
The goal introduces Edit your restaurant, which is represented by the intersecting Green Arrows symbol located to  the left of the Shopping Cart. Edit your restaurant opens up a view of the restaurant where one may change the appearance of the restaurant by adding, moving, and removing items such as cooking stations, walls, and floors.
The goal introduces a character with a Question Mark hovering over his head, indicating that there is a New Goal. Clicking on the character (before he leaves) will open the New Goal for viewing.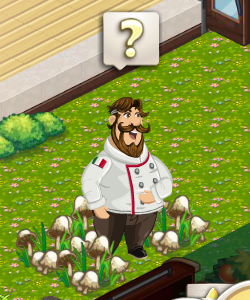 Ad blocker interference detected!
Wikia is a free-to-use site that makes money from advertising. We have a modified experience for viewers using ad blockers

Wikia is not accessible if you've made further modifications. Remove the custom ad blocker rule(s) and the page will load as expected.