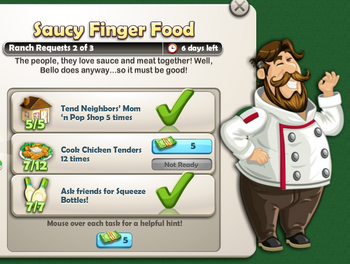 Saucy Finger Food is the second part of Ranch Requests goal. You will need to complete the following to go to the last quest of the Ranch Requests line of quests;
Tend Neighbor's Mom n' Pop Shop 5 times.
Cook Chicken Tenders 12 times.
Ask friends for Squeeze Bottles! (Post Request).
As reward for completing the quest you will recive
Ad blocker interference detected!
Wikia is a free-to-use site that makes money from advertising. We have a modified experience for viewers using ad blockers

Wikia is not accessible if you've made further modifications. Remove the custom ad blocker rule(s) and the page will load as expected.