Road to Wine Country is part 2 of the Wine Country Wander goal series. Completing this goal unlocks the Wine Country Estate expansion.
Have 119 Mastery Stars
Have 10,000 Coins
Have 44 Recommendations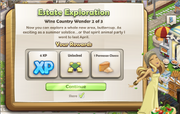 Ad blocker interference detected!
Wikia is a free-to-use site that makes money from advertising. We have a modified experience for viewers using ad blockers

Wikia is not accessible if you've made further modifications. Remove the custom ad blocker rule(s) and the page will load as expected.