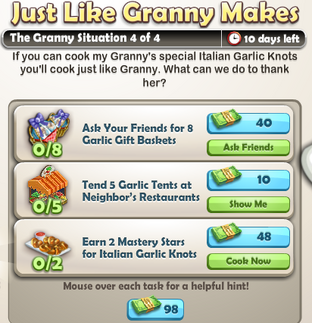 Just Like Granny Makes
is the last quest of
The Granny Situation
. It is a limited time quest lasting for 12 days, it started on the 18th of December and ends probably on the 30th of December.
Ask Your Friends for 8 Garlic Gift Baskets
Tend 5 Garlic Tents at Neighbor's Restaurants.
Earn 2 Mastery Stars for Italian Garlic Knots.
1 Blue Garlic Gnome
15 XP
5 Basil
Ad blocker interference detected!
Wikia is a free-to-use site that makes money from advertising. We have a modified experience for viewers using ad blockers

Wikia is not accessible if you've made further modifications. Remove the custom ad blocker rule(s) and the page will load as expected.