Inspired Italian! is the first goal in the quest, Standards of Italian Cuisine.
Inspired Italian! Standards of Italian Cuisine 1 of 5 is given by Madeline, after completing the goal, Super Speedy Service!.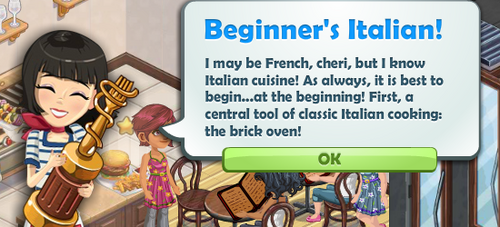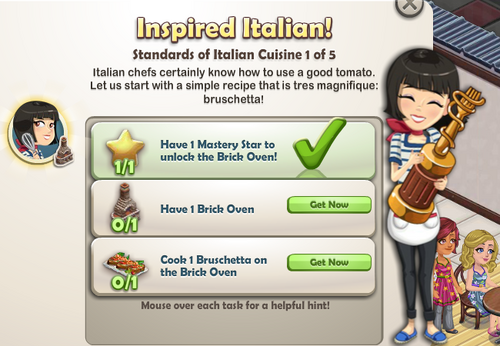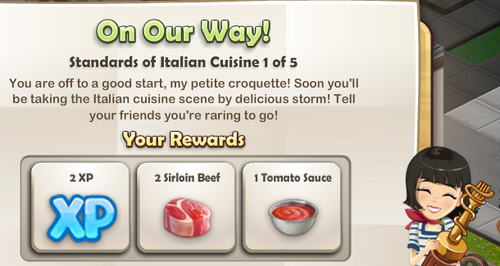 Tasks
Have 1 Mastery Star to unlock the Brick Oven!
Have 1 Brick Oven!
Cook 1 Bruschetta on the Brick Oven
Your Rewards
2 XP
2 Sirloin Beef
1 Tomato Sauce
The goal introduces ChefVille's first multi-goal series, loosely and often interchangeably, referred to as "Goals", "Quests" or "Challenges".  The subtitle, Standards of Italian Cuisine 1 of 5, indicates that the quest, Standards of Italian Cuisine, contains 5 goals.
The number of tasks per goal has increased to 3. There are 5 goals to complete and each goal gives its own reward for completing it.  However, it has been observed in regards to all quests, that the rewards given in the later goals within a series are sometimes regarded to be lesser in value compared to the rewards given out in the earlier goals within the same series.
The goal introduces another type of goal, quest or challenge, Master the World's Cuisines, where the objective is to earn all of Madeline's Trophies.
Ad blocker interference detected!
Wikia is a free-to-use site that makes money from advertising. We have a modified experience for viewers using ad blockers

Wikia is not accessible if you've made further modifications. Remove the custom ad blocker rule(s) and the page will load as expected.