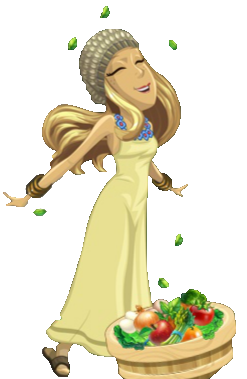 Ginger is an "ingredient gather" and a friend of Chef
Madeline
in Chefville.
She knows all the sources of the best ingredients and is usually helpful to the players by giving them goals to unlock something to get the ingredients or rewards the players with an ingredient. Ginger seem to be always cheerful and always call the players with nicknames related to flowers.
For ChefVille's first Halloween; Ginger will be the one who will give out Halloween goals and is the first character to have a different appearance (she now wears a witch costume) in the game.
It is likely that she supports eco-friendly cooking and raises awareness (or something like that) that organic & fresh food is better than canned/artificial food.
In Cold Turkey, it is revealed that Ginger is a vegetarian. So it is likely she supports animal rights.
Ad blocker interference detected!
Wikia is a free-to-use site that makes money from advertising. We have a modified experience for viewers using ad blockers

Wikia is not accessible if you've made further modifications. Remove the custom ad blocker rule(s) and the page will load as expected.