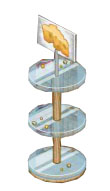 Cheese Rack is a harvestable item in Chefville that provides you with Mozzarella. You can't buy this item in the shop, nor you can sell it for coins (but you can keep it in your storage). The Cheese Rack is unlocked along with the Mom 'n Pop Shop expansion. It can be harvested once every 10 minutes.
Ad blocker interference detected!
Wikia is a free-to-use site that makes money from advertising. We have a modified experience for viewers using ad blockers

Wikia is not accessible if you've made further modifications. Remove the custom ad blocker rule(s) and the page will load as expected.